Team Sweden Captures Gold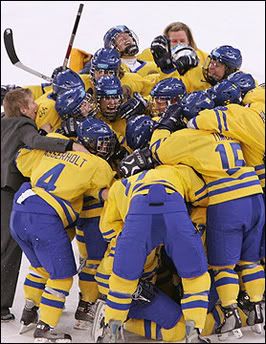 Congratulations to the Swedish hockey team, coached by popular ex-Washington Capital star
Bengt-Ake Gustaffson
, on its upset of Team Finland to capture the Olympic gold medal in Turin.
Some eyebrows were raised last week when Swedish coach Gustaffson was quoted saying it might benefit his team to lose against Slovakia to ensure a matchup with Switzerland, rather than Canada or the Czechs, easing the path to the medal round.
Be that as it may, Sweden still won when it counted, besting the undefeated Finns in a 3-2 thriller.
Washington Capital rookie sensation Alex Ovechkin scored five goals in eight games for Team Russia which, along with Teams USA and Canada, came home without a medal.
Prediction: the 2010 Games, which will be held in Vancouver, B.C., Canada, will be the last that the NHL will participate in. UPDATE: Caps' owner Ted Leonsis take on the NHL in the Olympics
here
.